Building blocks of life - minerals
Minerals and trace elements fulfil extremely important tasks in and on our body. They have a superordinate function in the composition of all life and are more important than vitamins.
On the one hand, as a component of enzymes, they contribute to the build-up of important substances for skin metabolism. On the other hand, their availability is important for the skin function and all solid structures such as hair, teeth, nails, bones and the skin during cell renewal.
They join together with amino acids, fatty acids and vitamins to form more complex structures as well as our skin cells. Every cell of our body contains a slightly salty cellular fluid, which also contains mineral salts. Together with the surrounding fluid they are the driving force for osmosis, the exchange of nutrients and also pollutants through a semi-permeable cell membrane.
Minerals together with water, electrolytes, urea, bactericidal peptides and fatty acids form an effective hydrolipid film our acid mantle and thus protect us from drying out, as well as from noxae and microorganisms.
Minerals that our skin loves ♥
Nutrients of life - Vitamins
Our AMBERPHARM ORIGINAL SALTCREAM contains a high percentage of high-quality cold-pressed jojoba oil (SIMMONDSIA CHINENSIS SEED OIL), which gives the product its characteristic slightly nutty & woody scent. A quality feature, because only cold-pressed jojoba oil still contains all its volatile essential oils and vitamins in their natural form.
Many of the vitamins and important antioxidation are largely destroyed in other oil extraction processes, such as hot pressing of vegetable oils above 100 degrees, or chemical extraction with subsequent heat treatment to evaporate the solvents used such as benzene, hexane, carbon tetrachloride, heptane, isopropyl alcohol and tetrachloroethylene. The vitamins which are essential for the skin are provitamin A and vitamin E, which also has a beneficial sun protection factor of 3 to 4. Vitamin B and other minerals are also completely preserved by the cold pressing process. The complete preservation of all vitamins is therefore essential when processing cosmetic products and their value is maintained in the later application.
As already mentioned above, natural essential oils are highly volatile. This basically means that they have a low flash point and can be easily volatilized even at normal ambient temperatures. Essential oils are highly volatile and evaporate already at temperatures above 37°- 55°C. In addition, essential oils are allergenic and can thus trigger allergies. Chemical fragrances, on the other hand, are not allergenic and last longer, but consist, as the word implies, of a variety of chemical substances that can unnecessarily stress the skin.
Note: We do not use any kind of artificial or natural fragrances in this natural product to hide this slightly nutty & woody natural scent. We are convinced that skin does not need a fragrance. If you still want to smell good, we recommend to use a good perfume.
Vitamins that our skin loves  ♥
Perfect protection for every skin type
A 250 million year old primeval salt originates from a natural spring at a depth of 460 metres, hermetically sealed and always kept pure from external environmental influences. With its more than 70 different minerals and trace elements (source: Dr. E. Fresenius) it is a precious and mysterious natural treasure of nature for the skin.
The original salt is dissolved in fresh spring water in an ionic solution and combined with high-quality jojoba oil (Simmondsia chinensis) with its rich vitamins provitamin A, vitamin E, vitamin B, vitamin C and other valuable ingredients in our salt cream in several stages.
With this combination of fresh spring water, the salt with its many minerals and trace elements, the cold-pressed jojoba oil and its most important cell-regenerative vitamins, we imitate the natural acid mantle of the skin with our Salt Cream and protect it so effectively against external pathogens such as fungi, viruses and bacteria. At the same time the cream ensures that the skin immediately regains moisture, suppleness and important regenerative nutrients without becoming sticky. It thus acts in 2 directions of the skin barrier and this demonstrably up to 100 hours.
The Original Amberpharm Salt Cream is the perfect long-lasting protection immediately after application. Particularly recommended to accompany therapy for atopic eczema, atopic dermatitis, neurodermatitis, psoriasis and acne, as well as other skin problems.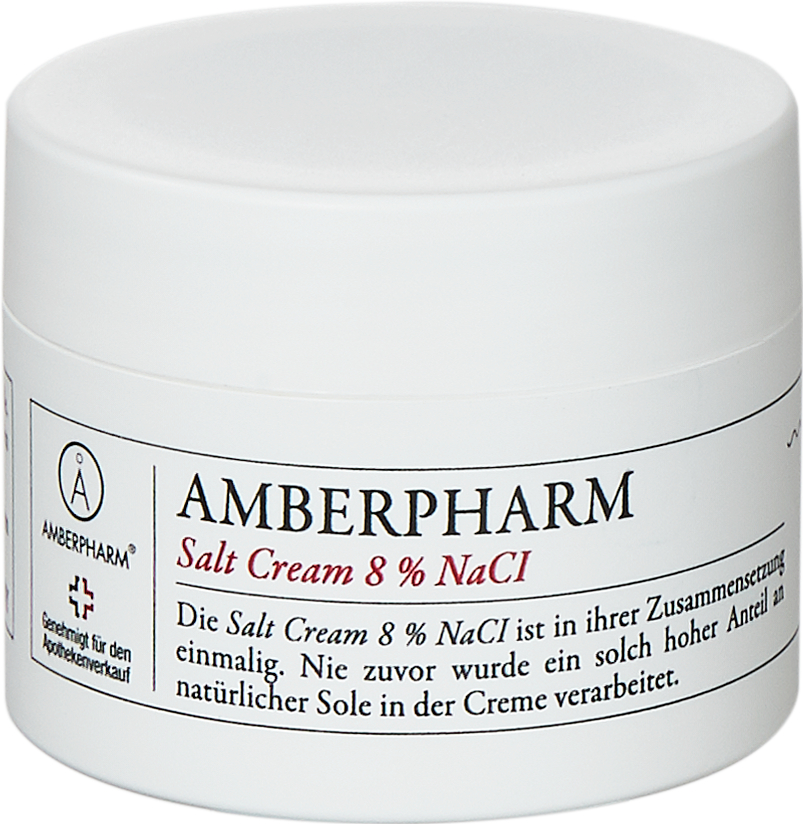 Amberpharm Orignal Saltcream 8% NaCI
Content 50 milliliter (€ 0.55 * / 1 milliliter / outside of Germany without tax)